Zeon® Zoysia – The #1 Selling Zoysia in America
Certified Zoysia from Tee to Green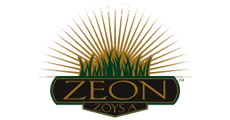 720
true
dots
bottomright
303
true
true
800
none


NEWS!
Hawaiian Turfgrass announces that Zeon Zoysia turfgrass is ready for sale to homeowners for lawns, and for use on golf courses and sports fields in the state of Hawaii starting August 1, 2016.
From Turf Republic – "Hawaiian Turfgrass ready with Zeon Zoysia"
A beautiful turfgrass, Zeon® is a fine-bladed Zoysiagrass, it has a beautiful dark green color and soft leaf texture making it a true "barefoot lawn grass." Zeon® Zoysia's extensive root system allows it to quickly recover from drought, it can handle full sun, and has excellent shade tolerance only requiring as little as 3 hours of direct sunlight. Compared to Emerald, Zeon® has a faster rate of spread. Expect coverage from plugs on one foot centers in about twenty to twenty-four weeks which is considerably faster than Emerald's normal growth rate. Zeon® does not produce the heavy layer of thatch, which makes Zeon® easier to care for and can be mowed with a standard rotary lawnmower. If you are looking for a fine textured, dense turf with exceptional "eye appeal", Zeon® Zoysia is the grass for you. Hawaiian Turfgrass is the exclusive Zeon® Zoysia grower in Hawaii.
Zeon® Zoysia – The Grass of the 2016 Olympics
Zeon® Zoysia is the grass of the 2016 Olympics in Rio! When golf returns as an Olympic sport to the 2016 Games, the grass the golfers will be playing on is Zeon® Zoysia. The grass was selected for use on the tees, roughs and fairways of the course being built specifically for the Olympics. Zeon®'s beauty and playability contributed to the choice. More important, Zeon®'s low water use and low fertilizer requirements were critical as the Olympic Committee's desire to build a sustainable golf course.
Zeon® Zoysia Exclusively from Hawaiian Turfgrass
Here in Hawaii, there's only one place to get Zeon® Zoysia: Hawaiian Turfgrass. Zeon® Zoysia is available only as a Certified turfgrass produced through licensed sod farms. Hawaiian Turfgrass, located in Mililani, Oahu, is the exclusive licensed producer of Zeon® Zoysia in the Hawaiian Islands. You can be assured of the highest quality sod.
Download the Zeon® zoysia brochure here
Zeon® Characteristics
Exceptional shade & drought tolerance
Fine bladed with vertical leaf posture
Deep green in color with exceptional "Eye Appeal"
Excellent late season color retention & early spring green-up
Short stolon & internode length
Improved Plant Vigor
Zeon®'s extensive root system, high stolon frequency, and vigorous rhizome growth, produces a thick compact turf that recovers quickly from injury
Zeon®'s turf quality tested much higher, compared to other zoysia cultivars in the National Zoysiagrass tests
In controlled testing by the National Turfgrass Evaluation Program (NTEP), Zeon® produced less thatch than all other zoysia cultivars except 'JaMur®' another of The Turfgrass Group, Inc. varieties
Zeon® will consistently establish in a wide variety of soil types
Zeon® exhibited superior genetic characteristics in replicated turf stress trials in Illinois, Georgia, & Texas
One Response to Zeon® Zoysia Sports Turf